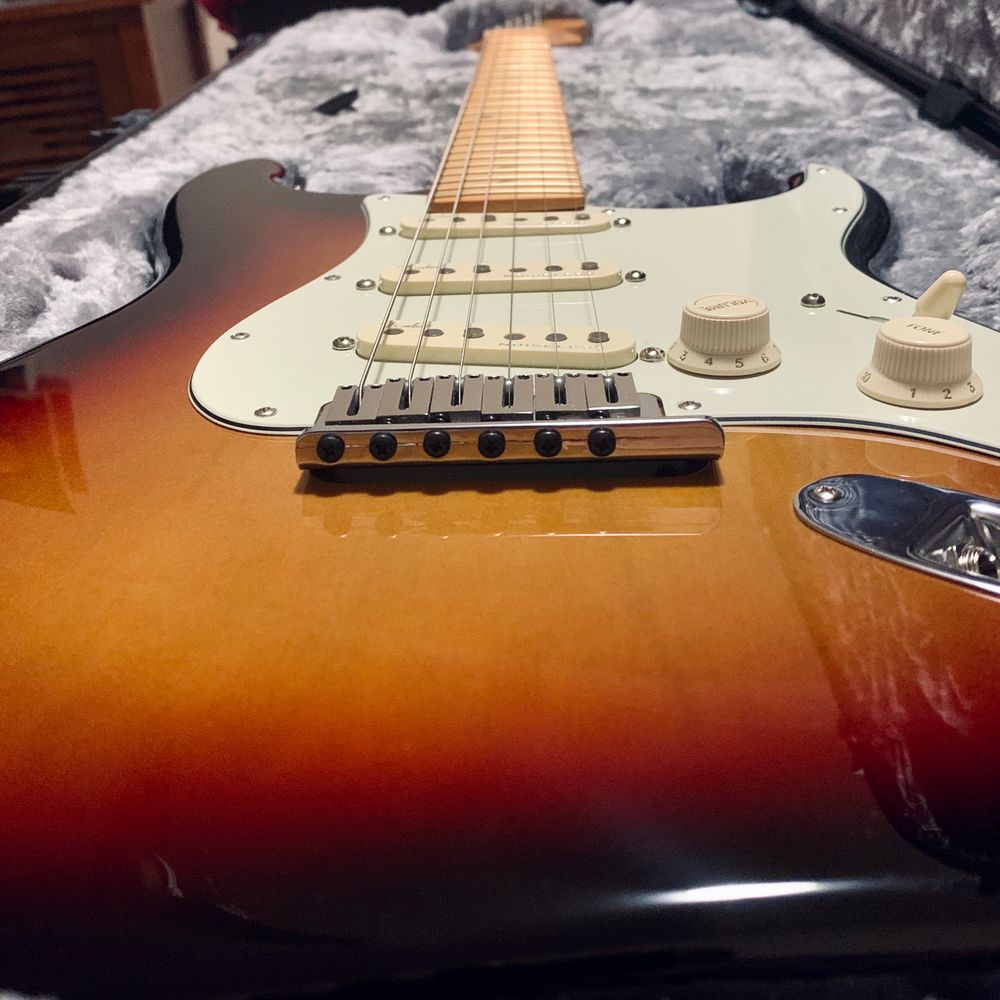 Guitar Tuition
Gold Coast Guitar Lessons for Novices, Beginners and Learners. 
Adam has been playing the guitar in a variety of different genres for 35 years.This gives him the ability to quickly discern what a student needs added to their skill set set and what pieces of information are missing from their musical theory base. 
It is important for a tutor to understand that all students are looking for different results, some people want the ability to play guitar around the campfire, some students wish to make a career out of the instrument, most people sit somewhere between these two. A good tutor is able to work in with the student and help them make educated decisions about the direction that their playing is to head in. A very good example of this is the decision whether or not to learn to read music, very few guitarists nowadays tend to read traditional sheet music, instead working off chord boxes, tablature music and playing by ear. If a student is looking to heading into jazz or classical music the ability to read sheet music is very important, other genres may not place the same importance on such. 
Due to the traditional approach to studying the guitar, many people have a picture of a strict, disciplined guitar teacher pounding notes into recalcitrant students. Sometimes this is referred to as the Segovia technique, Adam's teaching is quite the opposite and very intentionally so. 
Adam's goal is to encourage and inspire guitar students to enjoy the instrument and music in general. He works in to give beginning guitar students a selection of songs they are already familiar with, which makes learning the instrument simpler & more enjoyable for them. 
All guitar classes include the essentials of music theory, guitar technique, and performance. As they advance, we urge our students to play in a variety of musical genres to broaden their horizons and maintain their enthusiasm. 
Mobile Guitar coaching lessons for beginner, intermediate to advanced players in Southport, Benowa, Ashmore, Molendinar, Labrador, Helensvale, Arundel, Nerang, Carrara, Gaven, Biggera Waters, Runaway Bay, Coombabah, Paradise Point, Pacific Pines and other areas on select days.
Lessons for Intermediate to Advanced Guitar Players Southport and surrounds.
Adam maintains a close eye on the progress of our guitar students, and as soon as they are ready, move them to the next level and give a challenge using more difficult and constantly evolving guitar playing techniques. 
The better for students' musical development, the more they are involved in learning both guitar technique and guitar theory. 
In addition, at this point, Adam encourages students to live stage performances and is happy to assist with finding the right place to start. 
There is an emphasise popular music in our one-on-one guitar lessons. 
Adam might be the ideal guitar instructor for you if you wish to improve as a rock, pop, country, jazz, gospel, theatre, or R&B guitarist. 
Each week, students in guitar classes engage in physical activities that help them develop their playing, ear training, strumming, tune-listening, tone creation, accuracy, and other skills. 
All guitar students can create strategies with Adam to work on sounding like their favourite recording artists, prepare for an audition, or developing your own unique voice.
You have the option of taking these lessons the conventional way—in person—or if it's more convenient, online. 
Online guitar students can study conveniently, pay less, and select a comfortable time slot anywhere in Queensland, Australia, or even worldwide. 
You will most likely enjoy our online, one-on-one guitar lessons if you have any prior experience taking music lessons over Skype. 
In either case, taking private guitar lessons will help you advance more quickly, enjoy practising more, and increase your likelihood of finding genuine success in the music business. 
The low price of private guitar tuition is considerably outweighed by the long-term benefits. 
As a qualified local guitar instructor Adam can assist students of all ages, including seniors, adults, teenagers, and young children. 
Along with teaching you the physical aspects of playing the guitar, you can also walk through the essentials of music theory, including chords, voice basics, key training, chord inversion, and note counting. More advanced music theory is recommended but not always essential depending on the genre you are leaning towards. 
Frequently Asked Questions
What age to start Guitar Lessons?
There is no simple solution to this problem, and the student's motivation is more important than their age. 
Lessons for young students (beginning at age 10) concentrate on the fundamentals of music  and guitar which can be expanded upon as the pupils advance. The focus of lessons for more experienced students learning the guitar for the first time will be on guitar genres you are interested in! We want all of our students to develop become talented performers, whether they study jazz, popular music, or classical music.
Do You Teach Novice Learners? 
Yes, Adam has a great deal of expertise and practice with teaching beginners, intermediate players, and advanced players. When starting out it is important to lay a strong foundation with which to build your musical skills on. At the start is the best time to pick up bad habits before they become ingrained. You will soon be rocking with the best and feeling confident to perform in front of your friends and family with an expert tutor.
What Ages Do You Teach?
Adam is experienced with teaching all ages from about 7 years old and adults of all ages. It's not rare to have sons & daughters learning with their parents so they can play together. In addition Adam has taught many retirees who are up for further life challenges and ways to meet new people (playing at a jam night or open Mike is a way to find many new friends and extend your social life).
How Are Your Lessons Conducted? 
Once or twice a week, either in person or online, students meet for a private lesson with a tutor. An hour is recommended as being a good amount of time for a lesson.  
What Music Styles and Genres Do You Teach?
Some of the many musical genres we teach and perform on guitar include Blues, Rock, Pop, Country, Classical, Reggae, World, Indie, Jazz, Latin, Slide, Progressive Rock and Soul.
Adam is a big believer in guitarists being proficient in both the use of plectrums (picks) and fingerstyle (Clawhammer, Classical, Travis picking Walking Bass etc), ultimately it all depends on what the student wants to accomplish and what genre they are most heavily into. 
What Days Do You Teach?
Adam teaches Tuesday  to Thursday in the daytime and evenings to about 8.00pm.
Where Are You Located?
There is both a Gold Coast mobile service and online teaching.