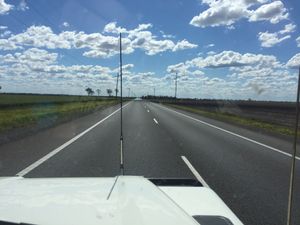 Bio
L
Adam no longer resides in a basement, somewhere on the Gold Coast of Australia. Due to the almost success of "From the Basement"  he now has a place around the corner, with a window.
He combines guitar 'centric tunes with road worn and lived in storytelling, Digging deep and serving genre defying, Roots, Country Blues music, his sound has been described as Metaphysical Blues.  
Adam grew up living a nomadic lifestyle, deeply influenced by the multitude of music playing in the background. Guitar based singer/songwriters, Bob Dylan, Kris Kristofferson, John Prine, Willie Nelson, Merle Haggard and James Taylor filled his young days on the road along with instrumental work by Django Rienhardt, BB King, John Lee Hooker, Chet Atkins, Mark Knoffler and Jerry Reed.
At twelve, Adam was given a beaten classical Guitar, dragged from a neighbors barn, more splinters than wood, missing four strings, a couple of frets and a row of tuning heads. After a year a cheap beaten twelve string was added to the mix, sparking a roots music journey and life long love of the sonic punch of the twelve string combined with intricate six string guitar picking. Classical guitar lessons continued through the early years, contributing to a good grounding in music theory and technique. The equipment has improved, but the drive has never diminished.
Adams music is unapologetically poetic, deep music with painstakingly written lyrics. His evocative melodies serve as the vessel to transport his lyrics.
It's long been held, that a Singer/Songwriter cannot write authentically until they've done some living. Hard travelling leads to good gritty tales. Adam draws heavily on his past experiences of living on the fringe, providing his audience with the real deal. When he writes about storms, it's derived from living through them.
In November of 2018, From the Basement, a thirteen song album was released to much critical acclaim being described as "An easy listening album, that digs deeper every time you hear it".
A new EP  "Minor Confusion" containing five gritty tales of hard living, was released 8 September, 2019.
This time around the electric was plugged in, and the overdrive warmed up for a smoky, spilt bourbon, rurally influenced, Metaphysical Blues.
Mid February 2021 is the release date for the retrospective, 20/20 Hindsight, a further exploration of the metaphysical blues concept with a smoother sound than either of the two earlier releases.
Please contact us for any more information, to check out Adams music, book for performances or to sign up to the mailing list.